Draper-DBS, Inc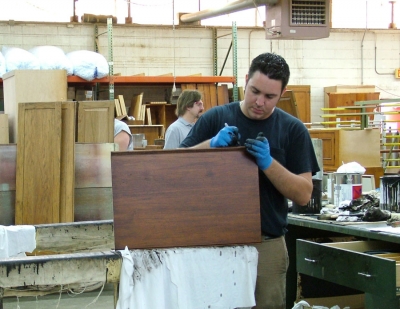 When William Draper found his "life calling" the carpentry world was forever altered. The year was 1975, and consumers were changing the way they approached their home decor. Suddenly, buying top of the line cabinets to furnish their kitchens and bathrooms meant more than finding a recognizable high-end name. Consumers desired to truly express their personalities through unique designs, stains, and decorative trims—giving Draper the opportunity to express his passion for creativity and design through woodworking.
Before moving into the Philadelphia area, Draper was a Hartford County, Connecticut resident. He followed the Appalachian Ridge south from Bristol, Connecticut, seemingly wandering solely for the fun of exploration, and rested in the eastern cusp of Pennsylvania's hills. Without any particular reason, Bucks County became his new home. New Hope was the place where he set out to find himself and his purpose in life. "It was fate," Draper says. "Destiny brought me here."
In his early elementary years, Draper had a passion for woodworking but left it behind to pursue other interests. He studied engineering in school, set out to explore new places, and desired to take his musical talent to the next level of self-expression. It was in Pennsylvania where he was reunited with the love of working with his hands; the feeling of doing something innately natural. Leaving his years of struggling to grasp engineering behind him, he began working as a carpenter apprentice building kitchen cabinets. From that point on, Draper knew that he was born to express himself through his passion for woodworking, and the beginning of DRAPER-DBS™ was born.
In 1980 Draper started his own company in his 200 sq. ft. basement in New Hope. His first creation was a country cupboard that detailed a worn, ragged, love-it-or-leave-it chipped paint finish. The piece was featured in a local used furniture and collectible store. It quickly became a highlight to those browsing along the streets, pulling them in to inquire more about the maker and to place orders. Draper found himself rapidly outgrowing his small space, and after only a year of residency, he emerged from the New Hope ground level studio and moved his one employee company into a renovated chicken coop that gave him more space to do what he loved most – create.
Here is where the vision of DRAPER-DBS™ soared. Bob Schultz, a local bath and kitchen designer discovered Draper's work and asked him to apply his technique toward creating antique reproduction cabinets. William had a passion for vintage authenticity—something that wasn't a trend then as it is now. In fact, in 1982, many furniture dealers rejected the idea of this style of craftsmanship, saying it looked "worn out". Yet some dealers were showing interest. It was with the growing interest of those dealers, and the combined efforts of William and Bob that DBS Custom Cabinetry was created.
"The market was ready for such innovation," Draper remarked. "It was the first time in my life I did the right thing at the right time." Money was starting to come in from the north. People started buying up the older homes in the area with rustic charm, desiring preservation of their authentic inspiration with a renovated freshness that expressed their individual personalities. It was just the moment for Draper's talent to shine. And it did.
Quality and craftsmanship has been a key element for DRAPER-DBS™ success. It doesn't take long to notice the touches of perfection and care that William's designs have. Each piece seeks to recreate a story, both in the method of work and in the finished look of the cabinets. All wood is hand planed, apprentices and journeymen work together contributing their unique talents, and all finishes are based on unique custom made formulations. This attention to detail allows the grain to retain its texture, which are then hand glazed, hand rubbed, and hand distressed. The finished look is an antique warm, soft glowing surface that was created by both the loving hands of the maker and the soft erosion of generations of use.
Today, with a company of 75 people in a large production house, (that has moved twice since the chicken coop) Draper remains the mastermind behind every piece. In fact, 75 percent of his job is designing, 25 percent managing. Every cabinet, counter, and complete room renovation starts with Draper's pencil and paper, his imagination, and his love for what he does. Apprentices and journeymen then take the vision into final stages, but each piece starts with Draper's own vision.
Both William and his wife Gloria (whom he met in 1983) manage the growth of DRAPER-DBS™ as it is today in Perkasie, PA. The married couple works together as a team to meet, and often exceed, all demands of their continuously growing client base. William takes pride in designing, whereas Gloria works behind the scenes overseeing the financial operations of the organization. Together, their dynamic energy entwines, unleashing expressive creativity and maintaining balance within their vastly successful, ever growing company.
To William, success is measured in multiple facets. He is truly passionate about creating one-of-a-kind experiences. The company mission statement says it best. "DRAPER-DBS™ will provide an experience, through the finest cabinetmaking and finishing, to forever thrill and surprise the most discriminating customer. We create this experience through the utmost concern for meticulous detail and the highest standards of quality, courtesy, and service."
It is his passion for what he does, and his belief that cabinet making is his life's calling, that makes the company as successful as it is. It is the team effort of his faithful employees, his loving wife, and the rich final products that establish DRAPER-DBS™ as a high quality name among the renovating competitors. Today, William finds peace of mind in knowing that he has pleased his many customers and that he has found expression for his natural born ability.
Origin of birth: Bristol Conn.
3 Key factors that differentiate your company: Craftsmanship, originality, hand signed pieces.
Little known fact: I still perform rock music.
What do you still want to achieve? I just want to continue on being what I am.
Word that best describes you: Tenacious. I never give up on anything. Every challenge has a solution. I learned that from my father.
Best decision: Moving to PA. Things fell into place then. That's when I discovered my path in life and met my wife.
Worst decision: Giving up on woodworking. I lost ten years in trying to pursue engineering.
Most influential person in life: My father because of his passion and expression. He was a workaholic, and from that I learned to never give up on anything. I also learned from his expression through his music to express myself as honestly as I can.
Filed in:
Manufacturing
,
Accounting & Attest Functions
---