reSAWN TIMBER co.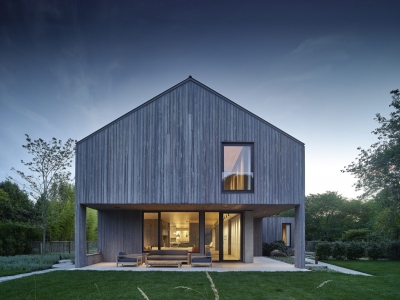 "A tree's wood is also its memoir." – Hope Jahren
That quote comes to life in a non-descript commercial manufacturing building on the outskirts of Telford, Pennsylvania where reSAWN TIMBER co. makes its home. The company provides the highest quality new woods, sustainably sourced in the United States. Their product line features beautiful antique woods reclaimed and milled to exacting standards and available in solid or engineered construction. The company chooses finishes that enhance the natural beauty of the wood and are easy to maintain.
In the capable hands of the company's growing team, wood becomes an art form whose beauty and durability transforms homes and commercial properties.
reSAWN TIMBER co. is a family-owned and operated business founded in January 2009 by a father and two sons – Bill Stevens Jr., Bill Stevens, III, and Mitch Stevens.
In recent years, reSAWN TIMBER co. has become known for its award-winning CHARRED materials for exterior siding and interior wall cladding that pays homage to the traditional Japanese technique of "shou-sugi- ban" aka "yakisugi" without being literal. Historically very specific in their definition, "shou-sugi-ban" and "yakisugi" have become common nomenclature for modern charred wood designs in general.
With a nod to the past, they have taken charred wood to a new level of design – one that is informed by modern sensibilities and techniques – one that celebrates uniquely American wood sources and design aesthetics. Volume production for exterior and interior siding is accomplished using proprietary, custom-designed machine.
reSAWN TIMBER co.'s CHARRED materials are made from domestic wood species whenever possible, including Cypress from the Southern US, Atlantic White Cedar, Western Red Cedar, and domestic White Oak, Black Walnut, and Red Oak as well as reclaimed woods from the US. They also offer prefinished chemical/thermo treated woods for exterior siding that come with extensive warranties and are sustainably produced.
All of reSAWN's wood designs have been carefully developed using modern finishes and incorporating many years of experience in the architectural and design specification market. reSAWN TIMBER co. prides itself on manufacturing wood products for a range of applications including exterior siding, interior wall cladding and flooring, and custom furniture.
The company website at www.resawntimber.com features dozens of award-winning architectural projects featuring their unique wood products. Colorful photos showcase the many ways architects and designers have incorporated reSAWN TIMBER co. materials into some of the very best homes and commercial building designs.
They continually strive to deliver creative solutions for individual project needs and to remain at the forefront of their design-driven industry. reSAWN's clients include Google, Amazon, Jack Rogers, Air BnB, PNC, Starbucks, the Comcast Center in Philadelphia, the University of Delaware, the University of Pennsylvania, the Kimmel Center, Keurig, Ovolo Hotels, flagship stores for Citizen Watch, as well as many distinguished private residences.
Filed in:
Manufacturing
,
Business Consulting
,
Family Business
,
Tax Planning
---