SHARE
Sellersville Theater 1894/Washington House Restaurant
Sellersville Theater 1894/Washington House Restaurant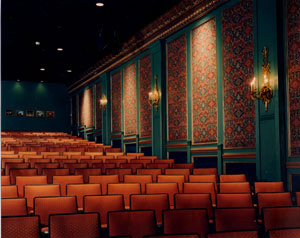 The house lights dim, a ripple of applause builds to crescendo, a voice announces "Welcome to the Sellersville Theater 1894"…and another night of live musical entertainment gets underway in the heart of Bucks County. The former "Cinema 1894", a fixture in the center of town, has been reborn as Sellersville Theater 1894. Featuring a luscious Victorian décor, state-of-the art sound system, and intimate seating, the restored facility has established itself as a premier local concert destination.
For William Quigley and Elayne Brick, owners of the theater and proprietors of The Washington House Restaurant next door, their restoration effort has been a labor of love. From the gorgeous wall coverings to the ornate pilasters and moldings, from the lobby chandelier to the deep red stage curtain, every detail is designed to create a space you will remember. They smile with pride when patrons linger to enjoy their first theater visit. But ST1894 isn't about ambiance and winning design awards, it's all about the music. Since Bucks County native son, Leon Redbone, filled the "house" on September 14, 2002 the stage has been home to some of the area's finest musicians and a variety of nationally acclaimed artists. The sounds of folk, blues, jazz, country, bluegrass and Celtic tunes have delighted music fans. Special Children's Theater performances have filled the theater with energetic youngsters and their parents. The periodic movie nights have also been a hit with patrons.
During the renovation, over 600 businesses and individuals united to champion the project by becoming theater members. Community support for building restoration and theater activities continues through the purchase of STAR membership packages that include ticket discounts, advanced ticket order privileges, preferred theater seating and invitations to member only events. As the level of support increases, members receive free show tickets, Washington House gift certificates, member only golf shirts, and even invitations to meet the artists. Businesses can create custom membership packages to reward employees, thank clients, and promote and advertise their company.
With a winning combination of fine dining and exceptional live entertainment, the Washington House and ST1894 has become an exciting destination in the center of Sellersville. The hundreds of patrons who frequent the venues each month can expect only the highest quality with every visit. We applaud William and Elayne for their commitment to preserving the past so future generations have a never-ending source of enjoyment in the future. Check show and membership details on the web at www.ST94.com, or call the box office (215) 257-5808. The Washington House and ST1894 are located on Main Street in Sellersville.
Filed in:
Retail
,
Accounting & Attest Functions
,
Tax Planning
---