5 Spring Cleaning Tips for the Office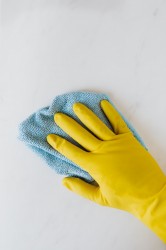 With the beginning of spring comes another spring cleaning. In 2022 a website platform for market and consumer data, Statista, posted research findings on spring cleaning. Publisher, Dominique Petruzzi, shared, "The survey revealed 78 percent of respondents partake in spring cleaning every year."

It's time to start incorporating spring cleaning into our work environment and not just in our homes. Here are a few ways for your business to declutter and refocus this spring.

1. Organize your desktop
Your computer can easily become a storage facility for old emails and documents. When left unkempt, downloaded files, old emails and screenshots pile up quickly.
Go through your computer folders and delete unnecessary documents to help free up storage and declutter your desktop. Also, create labeled folders to categorize documents to help organize your computer and find files faster.

2. Update your contacts list
A business' contact list is key to any marketing and communication purposes. It is important to keep them up-to-date for office records, email lists and mailing.
Add new clients and remove past clients from the current list. Go through to check you have all the proper fields filled out for each contact. While this may be a tedious process, it is important to have your information going to the right people.

3. Freshen up your vision and mission statement
A company's mission and vision statement are important because it is what a business stands for and the goals they have for the future. Looking at your current vision and mission statement, ask yourself a few questions:
Do we still believe this?
Are we still following what we claim to be true about our business?
Are we on track with our vision statement?
This spring is the perfect time to re-align your business with your mission and vision statement.

4. Re-evaluate procedures and processes
Looking over the previous year, see what company processes need to be implemented or improved. It can help to re-group with employees to review how a particular quarter or year went and strategize how to make procedures more efficient.
There never seems to be a perfect time to implement a new system but sometimes you just have to start.

5. Organize the office
Business spring cleaning can simply mean cleaning up the office. Take this time to finally organize the closet, desk or room that has become a holding tank for all unwanted and miscellaneous items.
Have employees clean up their desks to start the spring off with a clean workspace. Organizing folders, drawers and office spaces not only makes the business look good but allows it to become more productive.
Filed in:
Client News
---