Food Drive for The Keystone Opportunity Center

At Detweiler, Hershey & Associates, P.C., we care about people's lives and making a difference by getting involved in the community. Not only does our firm believe in this mission, but the clients at Detweiler Hershey do as well.

Detweiler Hershey hosted a food drive for the Keystone Opportunity Center and our clients went above and beyond donating bags, baskets and boxes full of items.

"We thank you for blessing us so we can pass the blessing onto those in need in our community," Food Pantry Manager at the Keystone Opportunity Center, Cindy Dembrosky, shared. "Each of YOU have made a difference in the lives of our neighbors with a basic need in life – food!"

Our goal was to raise 70 boxes for the Food Pantry and we not only met our firms goal, but we ended up with a total of 75 boxes. All donations were weighed in at the Keystone Opportunity Center for a grand total of 1,463.2 Ibs!

Detweiler Hershey also decided to match box donations for a total contribution of $3,500 to the Keystone Opportunity Center Food Pantry.

The food and essential items donated will help "neighbors living in Souderton School District who may be experiencing food insecurity or need a helping hand in feeding themselves and/or their families," Cindy said.
The Keystone Opportunity Center is an essential non-profit in our community dedicated to helping feed, educate and house our neighbors in need.

"Just this past month in March, we served 227 Households…which provided for 224 children, 314 adults and 110 Seniors in [the] Souderton School District," Cindy discussed in relation to the Food Pantry.

Looking for more ways to get involved with the Keystone Opportunity Center? Visit keystoneopportunity.org to learn about the many ways you can volunteer.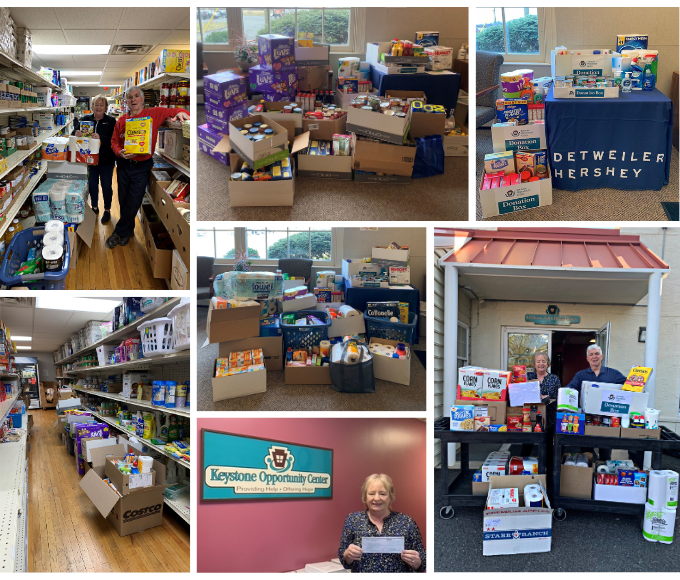 Filed in:
Client News
,
Community
,
News
---