Garden Therapy

By Taryn Bainbridge, CPA, CCIFP, CFE, Manager
My grandfather always had a vegetable garden in the summer when I was growing up. I remember picking those perfectly red, cherry tomatoes right off the vine, popping them directly into my mouth and getting that sweet burst of flavor upon biting down. I always enjoyed helping him in the garden, be it watering, laying down the cut grass to prevent weeds from popping up, or helping to pick the ripe vegetables.
Since he stopped growing vegetables all together due to the severity of his arthritis in his hands, I have always kept a garden of my own. While living at my parents throughout high school, college, and the beginning of my career, I got permission from them to create a fair-sized vegetable garden in their backyard. Each year I planted it and took care of it all summer long.
After I moved out, they kept planting it until a few years ago when the variety of vegetables planted began to shrink. This year their "garden" consists of two tomato plants, which is okay because they usually get some of the overabundance of vegetables that I harvest from mine.
Vegetable gardening was never a chore to me. In fact, it has always been very therapeutic to be out in the vegetable garden. I always look forward to it each Spring. I enjoy watching the plants and vegetables grow.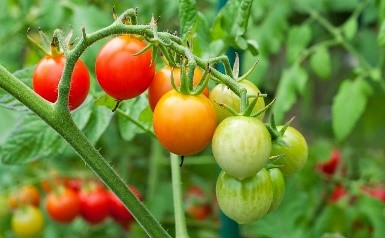 There is something to be said about that feeling you get when you can make meals out of what you have grown yourself. Plus, you can't beat the taste of a fresh vegetable recently picked from your backyard garden. There is nothing, and I mean nothing, like the taste of a home-grown tomato.
Tomatoes are probably my favorite vegetable in the garden. I typically have five varieties of tomatoes each year. The other vegetables I usually grow are like what my grandfather used to include in his garden—zucchini, cucumber, bell peppers, eggplant and green beans. Occasionally, I'll branch out and try something different, such as spaghetti squash or jalapeño peppers.
As we enter August, I expect the tomatoes to ripen rapidly and to have an over abundance of them on my kitchen counter soon. I will be ready. I have some new recipes lined up so none go to waste!
Enjoy your gardens and the rest of summer everyone!
I will leave you with this little tip. If you have tomatoes in your garden and enjoy BLT sandwiches…slice up a hard-boiled egg and add it to the mix. It tastes great and even makes it a more fulfilling sandwich with some extra protein! Enjoy!
Filed in:
Client News
---