Navigating the Great Resignation

Guest Blogger: Ken Byler, Owner, Higher Ground Consulting Group, LLC
Employee expectations about work have shifted. How employers handled the COVID-19 pandemic is one factor but employees are also assessing how well a company's future of work policies will match their long-term needs. In 2021 there has been a mass exodus of employees driven by plenty of new job opportunities (not limited by geography) and more flexible work environments, including greater work/life balance.
As the economy has recovered from the perils of 2020, organizations are losing top talent because they have failed to adopt a people-centered approach.
Talent management, a topic once taken for granted, has become a top priority.
When organizations leverage the unique needs, insights, and capabilities of people, they will thrive in any economic environment.
Survey Says…
How can organizations avoid losing top talent?
Wiley, my trusted business partner and assessments supplier, conducted a survey of 4,500 working professionals from a variety of industries during July 2021. Survey respondents included individual contributors (43%); managers (28%); supervisors (11%); directors (10%), and executives (7%). Here is a brief summary of their findings.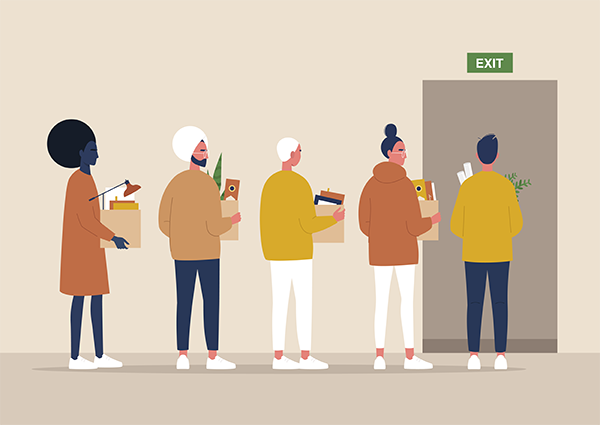 Only 18% of respondents are very satisfied with their work/life balance and a whopping 38% feel neutral, dissatisfied, or very dissatisfied. That means workers are stressed more than ever. 78% of people are experiencing elevated stress levels, with 42% reporting high stress.
The constant changes—a full-return to the office, a hybrid approach, or something different—paired with the extreme stress of 2020 has caused most people to feel a little out of balance.
Creating a More People-Centered Culture
So how can organizations encourage employees to stay and be more engaged? The survey offers some good news about policies that can impact the stress levels of employees.
Additional PTO and Mental Health Days: Pandemic-related mental health issues have been widespread and stress has played a role. The research revealed that providing additional PTO and mental health days had the strongest impact on lowering stress levels for employees.
Greater Flexibility: Last year's sudden pivot to remote work taught us that flexibility doesn't come at the cost of productivity. The new world of work needs policies that help employees maintain a work/life balance that prioritizes their health, wellbeing, and life outside of the workplace.
Non-Work Time to Connect with Colleagues: How employees experience work rests heavily on an organization's ability to build strong, healthy, working relationships.
Listening Sessions with Leaders: This survey result is interesting. People report lower stress levels when leaders reach out to listen. They want to feel heard and acknowledged for their unique needs and contributions.
Training Opportunities: Upskilling and reskilling are terms that have joined the lexicon of business literature. It's critical to invest in your workforce to ensure they have the most up-to-date skills to stay competitive in their respective fields.
Examining where your organization stands regarding these five benefits can help you assess how well-positioned you are to navigate a move towards a more people-centered culture.
Avoiding the Great Resignation depends on reducing employee stress with these policies. Hiring and retaining top talent is easier if these are already in place.
Photo Credit: istockphoto.com
Filed in:
Client News
---